PERFORMANCE, RELIABILITY DRIVEN BY ADVANCED TECHNOLOGY.
The ever increasing quality and expectations of today's anglers, coupled with constant demands for more responsive and precise products has resulted in Tri-Cast satisfying all of these requirements with our continual ongoing design and development programmes.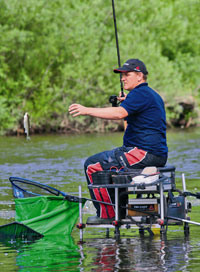 In 2013 , we can offer you not only an outstanding choice of products which are of the highest quality and performance, but each offering exceptional value for money, without compromising any of the key Tri-Cast fundamentals of Innovation, Design Excellence, Quality and Performance.
So we welcome you to join us and view our truly dedicated Fishing Tackle Website. Please browse at your leisure our full and comprehensive award winning range along with many new items for the forthcoming season.
By using the very latest and finest quality Carbon Fibre Materials throughout the whole range, together with specially selected toughened Resins Systems normally used only in our aerospace applications, we feel we have delivered again the highest quality, performing products in today's Angling market place.
POLES.
Check out our all new 2 PRO POLES for 2013. The TRILOGY PRO 2 and the ICONIC PRO both come with an even bigger and better spares package than we have ever offered before. These poles are made using not only a brand new Carbon Cloth and infused Resins, but by using all new mandrels and Production processes we have improved many aspects of our previous award winning poles of 2012. Lighter, Stiffer, better Balanced and much more Responsive without forgoing the inbuilt renowned Strength of Tri-Cast, these poles will be market leaders for years to come.
Alongside these 2 new Poles we have introduced the most amazing Margin Pole ever to hit the British market place. The TRILOGY XRS POWER MARGIN not only beats all others it leaves them years behind. The most expensive but the best never is cheap. When you weigh up all its qualities you will understand just what great value for money this margin pole is. It is now that good at 9mtrs we are able to offer not 1 but 2 parallel extensions to take it over 12 mtrs. Strength to handle anything you hook into with lightness and balance that is just beyond belief .
Not to be outshone by any of the above poles, we are proud to include our new Long Competition Whip. The TRILOGY 8mtr Whip gives the angler unrivalled performance, plus ultimate lightness and balance. .
RODS.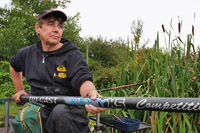 When it comes to Rods Tri-Cast have both an envied, and proven, reputation for designing and manufacturing the ultimate in Match and Feeder rods. We have this year maintained this position by including a number of Rods for the 2013 season using the latest design and materials technology. These advancements have enabled us to make even further technological and design advancements that have given these new rods unrivalled performance and actions. We recommend that you consider our new TRILOGY Match and Feeder Rod ranges, together with the new items added to our award winning XRS Range including the 10ft Short Method Feeder. This new rod continues in the same mode as the other rods, being Ultra Slim, light, yet displaying deceptive power throughout. Once again the XRS 8ft Wand beat off all its opposition to win the Rod of the year award for the 2nd consecutive year in 2011. Look at the latest Rod to join the Trilogy Match Rod range, with the new 13ft Waggler Rod. The quality of our materials used throughout, together with our outstanding development and design make Tri-Cast rods respected by all the angling trade that will give you performance year after year.
Accessories
For the angler who is looking for high Quality accessories to compliment his equipment, we have added several new products to our accessories range. To our existing Landing net handle range, we have added a new super slim and light TRILOGY Competition Handle, which will run alongside the very popular and proven XRS EASY REACH range of handles.
When you have all of your quality angling items, it's quite natural that you demand also the highest quality of design and reliability in the range of Luggage to carry them in. From our specially designed holdalls, to the Modular and Cocoon Ranges of Carryalls that are not only the ultimate in versatility, but give you everything you need to transport all your tackle, as and when required. Their modular design systems allow you the opportunity to take only part for those quick evening summer fishing trips. The Cocoon Carryall System has taken our modular system to the next level. Its clever functional design separates out into 6 individual bags offering you countless combinations, which are ideal for any situation or venue. A proven range of luggage that swept all aside to win luggage range of the year in 2012.
New for 2013 season we have included a double cocoon holdall. Designs to keep your ready made up rods safe and at a length of 190cm. It is long enough to accomodate most rods. To enhance our comprehensive luggage range we have also added a larger EVA sealed net bag which is capable of holding 3 of even the largest keepnets.
We hope you enjoy our dedicated Fishing Website which has been put together to keep you informed of all our range and product specifications, it will be updated with any news and product information that comes along. If you require any further information or have any questions then please feel free to contact us at anytime where our experienced team will only be too pleased to assist you.
New Products